A two-year BBC investigation into Black Axe – a Nigerian student fraternity which evolved into a dreaded mafia-group – has unearthed new evidence of infiltration of politics, and a scamming and killing operation spanning the globe.
Warning: Contains detailed graphic accounts of violence
During quiet moments, after he has finished lecturing for the day, Dr John Stone has flashbacks. It's not the blood or the sound of the gunshots that haunt him. It's the begging. The way people beg for mercy when they die. Begging him. Begging God.
"It's so painful," he says, shaking his head with a shudder. "The families of the dead, they will curse you. A curse will be upon your life."
Dr Stone teaches political science at the University of Benin, in southern Nigeria. But for decades he was a senior member of Black Axe – a Nigerian mafia-style gang tied to human trafficking, internet fraud and murder. Locally, Black Axe are referred to as a "cult," a nod to their secret initiation rituals and the intense loyalty of their members. They are also infamous for extreme violence. Images of those who cross their path – dead bodies mutilated or showing signs of torture – regularly surface on Nigerian social media.
Dr Stone admits he took part in atrocities during his years as an "Axeman". At one point during our interview, recalling the most efficient means of killing, he leaned forward, squeezed his fingers into the shape of a gun and pushed them to the forehead of our producer. In Benin City, he was known as "a butcher".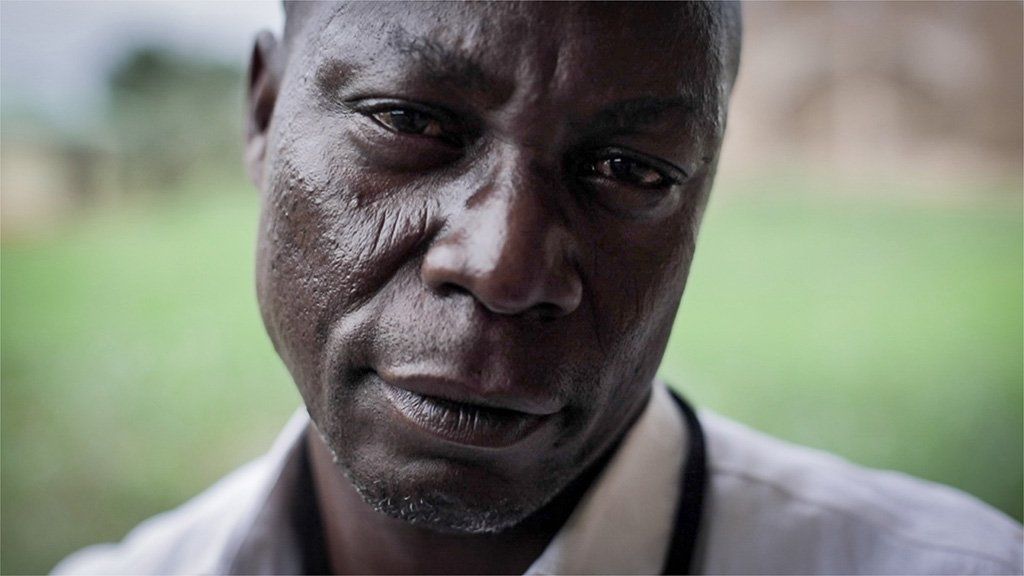 The horror of these years has scarred him. Today, Dr Stone is remorseful for his past and a vocal critic of the gang he once served. He is one of a dozen Black Axe sources who have decided to break their oaths of silence and reveal their secrets to the BBC, speaking to international media for the first time.
For two years BBC Africa Eye has been investigating Black Axe, building a network of whistle-blowers, and uncovering several thousand secret documents – leaked from the gang's private communications. The findings suggest that over the past decade, Black Axe has become one of the most far-reaching and dangerous organised crime groups in the world.
In Africa, Europe, Asia and North America, Axemen are in our midst. You may even have an email from them in your inbox.

Our investigation began with a death threat – a spidery, hand-written letter, delivered to a BBC journalist in 2018. It was dropped by a motorbike rider on to the windscreen of the reporter's car. Weeks earlier, the journalist had been digging into the illegal opioid trade in Nigeria and had met a number of Black Axe members face to face. Later, a second letter was handed to the man's family. Someone had been tracking him and had found his home.
Did the threat come from Black Axe? How powerful is this crime network, and who is behind it?
Our search for answers led us to a man who claimed he had hacked tens of thousands of secret Black Axe documents – a huge cache of private communications, from hundreds of suspected members. The messages, which span 2009 to 2019, include communications about murder and drug smuggling. Emails detail elaborate and lucrative internet fraud. Messages plan global expansion. It was a mosaic of Black Axe criminal activity spanning four continents.